Business Process Management S-BPM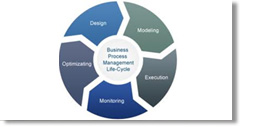 Enterprises are continuously seeking to transform themselves into customer focused, process centric organizations. They consider this transformation critical to their ongoing business success. Using the Metasonic Subject-Oriented Business Process Management product PKCís S-BPM solutions offer superior business benefits. Pivotal to these solutions is a complete set of tools for creating, executing, and optimizing business process applications.



Speed is the key to agility and global competitiveness.

S-BPM provides the optimal methodology. Control flow orientation, the basis of many other BPM methods and tools, is replaced by subject orientation and communication. Using only 5 symbols every business user can model processes in just a few hours efficiently while ensuring compliance with established policies and procedures. These models can immediately be executed as an application. Any changes to the BPM application can be done on the fly. The Benefits: Dynamically efficient, compliant and secure business process applications, motivated employees, complete alignment of business and IT entities and overall an accelerated ROI.
PKC helps organizations to achieve BPM benefits in areas such as:
Operations management
Transaction processing
Work flow automation

Budgeting & Planning
Forecasting & Reporting
Analysis & Analytics
We deliver this by providing a suite of value-added services. These services are designed to reduce the risks associated with technology, compliance requirements, and financial impacts, while accelerating the time to payback.